Bazecity Media Ltd joins NiRA Accredited Registrars
NiRA lists Bazecity Media Limited as one of its Accredited Registrars in Nigeria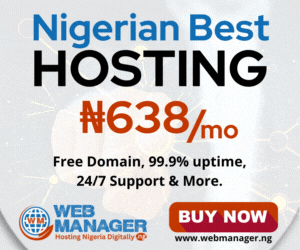 One of the faster growing ICT company Bazecity Media Limited has been accredited by the Nigerian Internet Registration Association (NiRA) as an official Registrar for .NG domains.
The company which is owned and managed by a 30year old entrepreneur — Kizito Ibeh Onyeka has been into business since 2018 with variouse nitche to suit it's clients and customer base services.
The registration of domain and web hosting is being carried out via WebManager.NG (http://WebManager.NG) — a platform that has been fully optimized for this purpose with full accreditation specifics with NiRA.
Some of the services offered by Bazecity Media Limited include:
1. Website Hosting and Domain Registration: Bazecity Media Limited provides a robust web hosting infrastructure to it's clients via the official web hosting website webmanager.ng (http://webmanager.ng/). The hosting platform also offers all ccTLDs for .NG (.ng, .com.ng, name.ng, i.ng, .gov.ng) as a fully certified NiRA accreditation registrar.
2. Digital Marketing: Bazecity Media Limited provides digital marketing services to help businesses reach their target audience and increase their online visibility. They offer social media marketing, email marketing, search engine optimization (SEO), pay-per-click advertising, and other digital marketing services.
3. Web Design and Development: Bazecity Media Limited also provides website design and development services to businesses and individuals. They create responsive and user-friendly websites that are optimized for search engines and can be accessed on multiple devices.
4. Content Creation: Bazecity Media Limited provides content creation services such as copywriting, blog writing, article writing, and other forms of content creation. They create engaging and informative content that helps businesses to connect with their audience and build their brand.
5. Video & Music Production: Bazecity Media Limited also provides video and music production services, including video editing, motion graphics, animation, music recording, mixing, mastering and other forms of video and music production. They help businesses to create high-quality videos and voice-overs that can be used for marketing, training, or other purposes.
6. Public Relations: Bazecity Media Limited also provides public relations services, helping businesses to manage their reputation and build relationships with their stakeholders. They provide services such as media relations, crisis management, and event planning.
These are just a few of the services offered by Bazecity Media Limited. For more information, you can visit their website on bazecity.com or contact them directly.